RB300-LT 12V LiFePO4 Lithium Deep Cycle Group 8D | 300 AH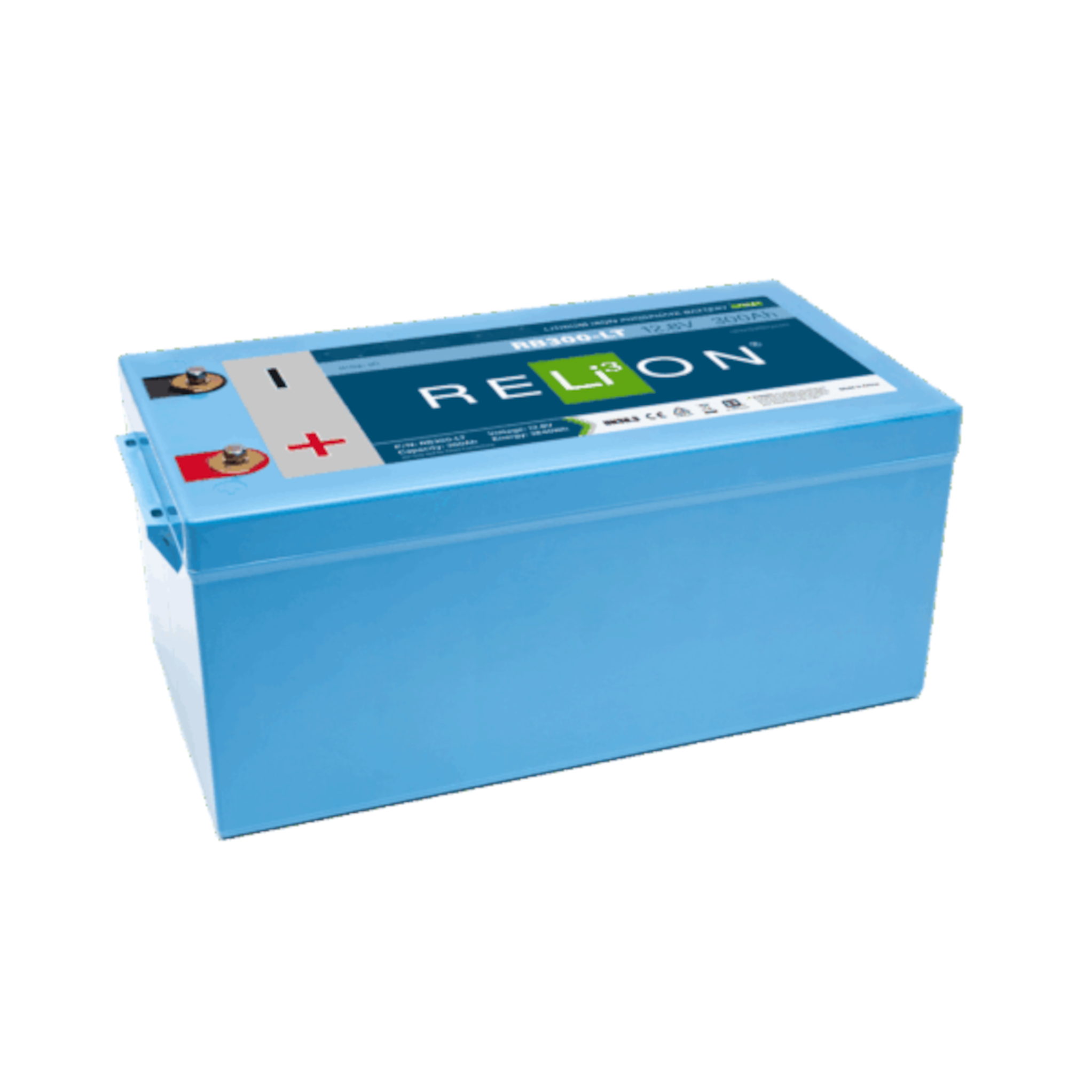 Relion LT Series
RB300-LT 12V LiFePO4 Lithium Deep Cycle Group 8D | 300 AH
Voltage: 12V
AH @ 20hr: 300
Energy (Wh): 3840
R/C @ 25A: 720 min.
Depth of Discharge (DOD): 13000 Cycles @ 50% DOD
Terminal Type: M8
MBC #: LITH12-300-LT
Dimensions In. (mm): 20.5 x 10.5 x 9.0 (520 x 267 x 228)
Weight Lb. (kg): 76.1 (34.54)
Contact us for availability.
Couldn't load pickup availability
We supply convenient pickup locations in all major cities across Canada within 20 km of the city center. Proceed to checkout to select a location near you.

We do not provide the full addresses online as our locations are exclusively for pickup. Upon ordering, you will receive the address in a pickup confirmation email. To schedule a pickup or for further information, please contact us.

Canada Wide Pickup
Our pickup locations are in London, Mississauga, Kingston, Ottawa, Sudbury, Thunder Bay, Montreal, Sherbrooke, Lévis (Quebec City), Moncton, Vancouver (Delta), Kelowna, Fort McMurray, Grand Prairie, Edmonton, Calgary, Saskatoon, Regina, Winnipeg and Halifax.

Picking Up Your Order
Our pickup locations are open Monday to Friday, 8am to 5pm and products are available for same day pickup, unless marked otherwise. Upon receiving your pickup email, we hold your product(s) for 5 business days and will have your order ready upon arrival during our regular business hours.

Our warehouses provide convenience with bay doors and a helpful staff to facilitate your pickup. Please note that our locations are for pickup only and do not install or remove batteries from vehicles.
We offer various shipping methods to accommodate your needs, including free business delivery, third-party shipping, free Canada wide shipping on select products and specialty carrier shipping to remote areas.

Please note that products listed as "pickup only" are available for business delivery and third-party shipping. Contact a Voltloop representative on our toll-free number or by email to setup an account and receive a shipping quote.

Free Business Delivery
We supply free business delivery within a 100-kilometer radius of our facilities located in all major cities in Canada, including London, Mississauga, Kingston, Ottawa, Sudbury, Thunder Bay, Montreal, Sherbrooke, Lévis (Quebec City), Moncton, Vancouver (Delta), Kelowna, Fort McMurray, Grand Prairie, Edmonton, Calgary, Saskatoon, Regina, Winnipeg and Halifax. Contact us to setup an account and qualify today.

Pickup Only Products
Products marked as "pickup only" are not available for shipping through our online checkout. Please contact us to schedule business delivery or for specialty carrier delivery options.

Returns, Refunds and Warranties
Voltloop offers a 30-day return policy on select items, as well as full refunds for orders cancelled prior to processing, which normally takes one day. In addition, our products are backed by industry-leading manufacturer warranties, which are noted on each product page. For additional information, please see our terms and conditions.

Specialty Carrier Shipping
We provide specialty carrier shipping for remote locations with our nationwide distribution system. We have access to carriers and distribution points to facilitate delivery to any location in Canada and the United States. Please contact a Voltloop representative to receive a quote and shipping schedule.

Third Party Delivery
We offer third-party delivery options through UPS, FedEx, Canada Post, and USPS for orders shipped to Canada and the United States. At checkout, delivery times and pricing are calculated automatically. Products marked as "pickup only" are not available for shipping online, but please contact us and we can provide you with alternative delivery options and prices.

Free Canada Wide Delivery
We offer free Canada wide delivery on select products offered online. Product pages marked as "free shipping" will be available for $0 delivery at checkout with no prequalification necessary.
No hidden core fees, plus we give you money back to recycle your old battery. All of our pickup locations are registered recycling depots, so when you pick up your new battery, we can recycle your old one and give you money back.

Battery Exchange
Battery scrap values depend on current market prices and vary based on size and chemistry. Prices are determined on location and are not subtracted from the original sale price.

Batteries must be a minimum size to qualify for our money back program, with the approximate minimum size being a 35 lb. automotive battery. Please note that we do not remove or replace batteries in vehicles or equipment, and batteries must be removed before you proceed to our locations.
The RB300-LT is a 12V 300Ah lithium iron phosphate battery and is part of RELiON's Low-Temperature Series. This lithium iron phosphate battery is specially designed for cold weather performance. RELiON's LT Series batteries can safely charge at temperatures down to -20°C (-4°F) using a standard charger. The system features proprietary technology which draws power from the charger itself, uniformly heating the cells within the battery to 41°F (5°C), so that it can be charged at its full recommended current. LT batteries require no additional components such as heating blankets.
The entire process of heating and charging with the LT Series is completely seamless. Simply plug the battery into the regular lithium charger and the internal heating and monitoring system takes care of the rest. Because it takes time to heat the cells, the charging process in below-freezing temperatures could take a little longer.
The Low-Temperature Series battery has the same size and performance as other RELiON batteries but can safely charge when temperatures drop as low as -20°C using a standard charger. Chilly nights off-the-grid are now easier with the RB300-LT - perfect for RVs, Sprinters, Class A and Class C vehicles, and more!
ELECTRICAL SPECIFICATIONS

MECHANICAL SPECIFICATIONS

Nominal Voltage

12.8 V

Dimensions (L x W x H)

20.5 x 10.5 x 9.0" (520 x 267 x 228 mm)

Nominal Capacity

300 Ah

Weight

76.1 lbs (34.54 kg)

Capacity @ 25A

720 min

Terminal Type

M8 x 1.25 x 2mm

Energy

3840

Terminal Torque

80 - 100 in-lbs (9 - 11 N-m)

Resistance

≤30 mΩ @ 50% SOC

Case Material

ABS

Efficiency

99%

Enclosure Protection

IP66

Self Discharge

<3% per Month

Cell Type - Chemistry

Cylindrical - LiFePO4

Maximum Modules in Series

1 (Single-use)

 

 
DISCHARGE SPECIFICATIONS

CHARGE SPECIFICATIONS

Maximum Continuous Discharge Current

100 A

Recommended Charge Current

15 A - 50 A

Peak Discharge Current

200 A (7.5 s ±2.5 s)

Maximum Charge Current

100 A

BMS Discharge Current Cut-Off

280 A ±50 A (9 ±4 ms)

Charge Current 14 to 32 ºF (-10 to 0 ºC)

≤0.1 C

Recommended Low Voltage Disconnect

11 V

Charge Current -4 to 14 ºF (-20 to -10 ºC)

≤0.05 C

BMS Discharge Voltage Cut-Off

8 V (2.0 ±0.08 vpc) (140 ±60 ms)

Recommended Charge Voltage

14.2 V - 14.6 V

Reconnect Voltage

9.2 V (2.3 ±0.1 vpc)

BMS Charge Voltage Cut-Off

15.6 V (3.9 ±0.05 vpc) (1.0 ±0.5 s)

 

8.8V 2.2±0.3V/cell

Reconnect Voltage

15.2 V (3.8 ±0.05 vpc)

Short Circuit Protection

200-600 μs

Balancing Voltage

14.4 V (3.6 ±0.025 vpc)
TEMPERATURE SPECIFICATIONS

HEATING ELEMENT SPECIFICATIONS

Discharge Temperature

-4 to 140 ºF (-20 to 60 ºC)

Heating Temperature Range

-4 to 50 ºF (-20 to 5 ºC)

Charge Temperature

-4 to 113 ºF (-20 to 45 ºC)

Heating Time

1.5 hr @ 15 A

Storage Temperature

23 to 95 ºF (-5 to 35 ºC)

 

 

BMS High Temperature Cut-Off

176 ºF (80 ºC)

 

 

Reconnect Temperature

122 ºF (50 ºC)

 

 

*Refer to charge currents below 0°C (32°F)

 

 

 
| | |
| --- | --- |
| COMPLIANCE SPECIFICATIONS |   |
| Certifications | UN38.3 (battery) |
|   | CE (battery) |
|   | UL1642 & IEC62133 (cells) |
| Shipping Classification | UN 3480, CLASS 9 |
Relion RB300-LT Data Sheet
Manufacturer Limited Warranty 3 Years Replacement or Repair Warranty with 10 Year Total Warranty.