GX3626 36V UltraSafe Industrial Battery Charger | 26 Amp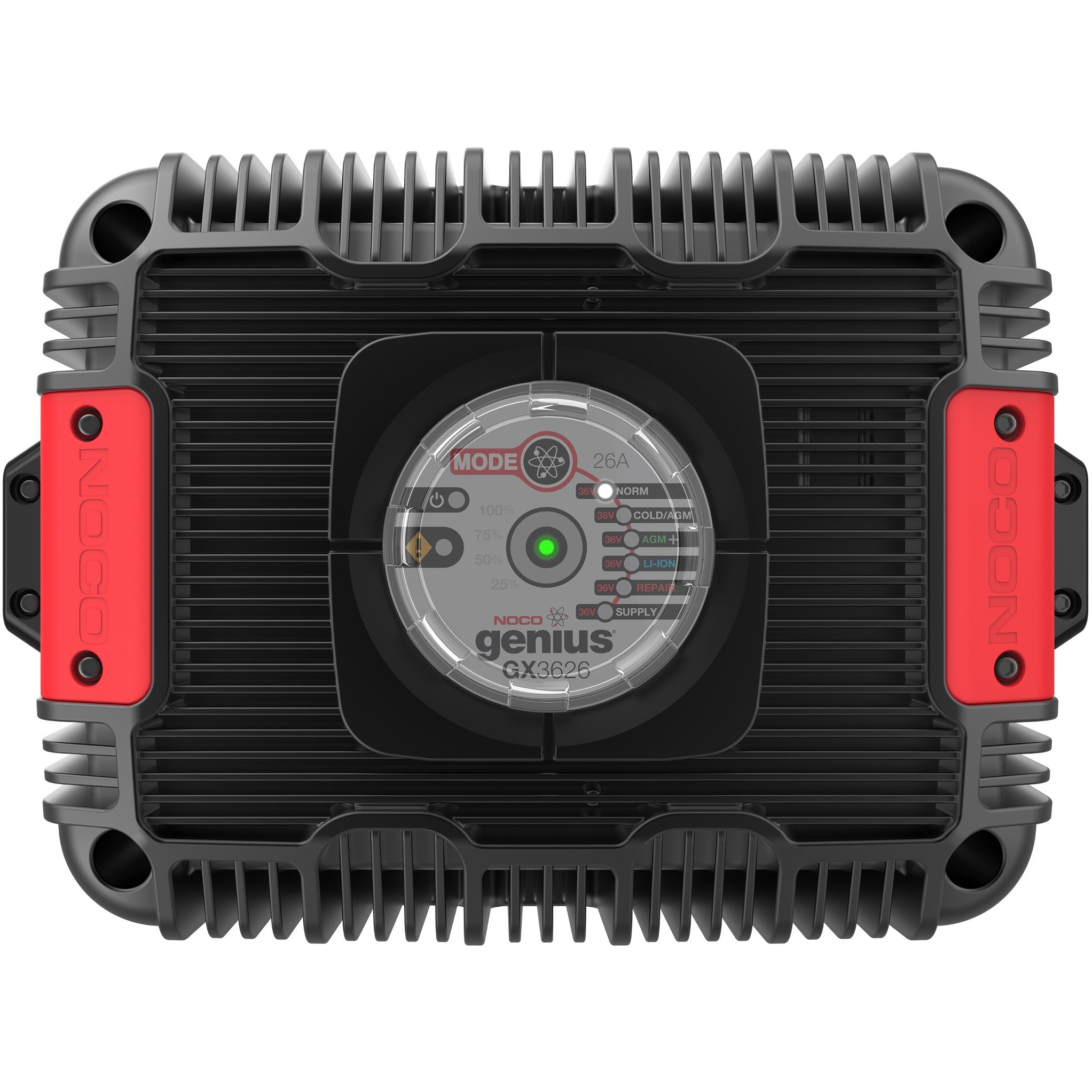 Noco
GX3626 36V UltraSafe Industrial Battery Charger | 26 Amp
What's Included?: GX3626 36V Industrial Battery Charger, Integrated D/C Cable with Eyelets & Integrated A/C Cable with Type B Plug
Voltage: 36V
Current: 26A
Battery Capacity: Lead-Acid & Lithium-Ion Batteries up to 425Ah
Battery Type: Wet, Gel, MF, EFB, AGM, Lithium
Capacity Range: 55-425Ah
Power: 960W (Max)
Input: 100-240V / 50-60Hz
Cord Length (in): 76" (AC & DC Cords)
Dimensions In. (mm): 12 x 8.5 x 3.9 (304.8 x 215.9 x 99.06)
Weight Lb. (kg): 13.2 (27)
Same day pickup or next day free shipping.
Couldn't load pickup availability
We supply convenient pickup locations in all major cities across Canada within 20 km of the city center. Proceed to checkout to select a location near you.

We do not provide the full addresses online as our locations are exclusively for pickup. Upon ordering, you will receive the address in a pickup confirmation email. To schedule a pickup or for further information, please contact us.

Canada Wide Pickup
Our pickup locations are in London, Mississauga, Kingston, Ottawa, Sudbury, Thunder Bay, Montreal, Sherbrooke, Lévis (Quebec City), Moncton, Vancouver (Delta), Kelowna, Fort McMurray, Grand Prairie, Edmonton, Calgary, Saskatoon, Regina, Winnipeg and Halifax.

Picking Up Your Order
Our pickup locations are open Monday to Friday, 8am to 5pm and products are available for same day pickup, unless marked otherwise. Upon receiving your pickup email, we hold your product(s) for 5 business days and will have your order ready upon arrival during our regular business hours.

Our warehouses provide convenience with bay doors and a helpful staff to facilitate your pickup. Please note that our locations are for pickup only and do not install or remove batteries from vehicles.
We offer various shipping methods to accommodate your needs, including free business delivery, third-party shipping, free Canada wide shipping on select products and specialty carrier shipping to remote areas.

Please note that products listed as "pickup only" are available for business delivery and third-party shipping. Contact a Voltloop representative on our toll-free number or by email to setup an account and receive a shipping quote.

Free Business Delivery
We supply free business delivery within a 100-kilometer radius of our facilities located in all major cities in Canada, including London, Mississauga, Kingston, Ottawa, Sudbury, Thunder Bay, Montreal, Sherbrooke, Lévis (Quebec City), Moncton, Vancouver (Delta), Kelowna, Fort McMurray, Grand Prairie, Edmonton, Calgary, Saskatoon, Regina, Winnipeg and Halifax. Contact us to setup an account and qualify today.

Pickup Only Products
Products marked as "pickup only" are not available for shipping through our online checkout. Please contact us to schedule business delivery or for specialty carrier delivery options.

Returns, Refunds and Warranties
Voltloop offers a 30-day return policy on select items, as well as full refunds for orders cancelled prior to processing, which normally takes one day. In addition, our products are backed by industry-leading manufacturer warranties, which are noted on each product page. For additional information, please see our terms and conditions.

Specialty Carrier Shipping
We provide specialty carrier shipping for remote locations with our nationwide distribution system. We have access to carriers and distribution points to facilitate delivery to any location in Canada and the United States. Please contact a Voltloop representative to receive a quote and shipping schedule.

Third Party Delivery
We offer third-party delivery options through UPS, FedEx, Canada Post, and USPS for orders shipped to Canada and the United States. At checkout, delivery times and pricing are calculated automatically. Products marked as "pickup only" are not available for shipping online, but please contact us and we can provide you with alternative delivery options and prices.

Free Canada Wide Delivery
We offer free Canada wide delivery on select products offered online. Product pages marked as "free shipping" will be available for $0 delivery at checkout with no prequalification necessary.
No hidden core fees, plus we give you money back to recycle your old battery. All of our pickup locations are registered recycling depots, so when you pick up your new battery, we can recycle your old one and give you money back.

Battery Exchange
Battery scrap values depend on current market prices and vary based on size and chemistry. Prices are determined on location and are not subtracted from the original sale price.

Batteries must be a minimum size to qualify for our money back program, with the approximate minimum size being a 35 lb. automotive battery. Please note that we do not remove or replace batteries in vehicles or equipment, and batteries must be removed before you proceed to our locations.
Noco GX3626 36V 26 Amp UltraSafe Industrial Battery Charger
The GX3626 is a high-frequency, high-efficiency industrial battery charger for electric vehicles, like a golf cart, scissor lift, pallet jack, floor care machine or utility vehicle. It represents the latest technology for fast and efficient battery charging with multiple charging modes at a push of a button. It's universally adaptable design allowed for global use with replaceable A/C and D/C cables and designed for all types of deep-cycle lead-acid and lithium-ion batteries. And suitable for both on-and-off board applications.
A 92-percent high-efficiency 36V industrial battery charger.

Wide-range input voltages from 100-240VAC, 50-60Hz.

Charges lead-acid and lithium-ion batteries up to 425 amp-hours.

Integrated inhibit and remote LED functions.

Converts to a power supply for zero voltage charging.

Progressive repair method for sulfated batteries.

Spark-proof technology and reverse polarity protection.

Advanced diagnostics indication for damaged batteries.

Designed for rugged environments and rated at IP66.
TECHNICAL SPECIFICATIONS

 

Current

26 Amps

Input Voltage AC

100-240 VAC, 50-60Hz

Voltages

36V

Working Voltage AC

85-240 VAC, 50-60Hz

Chemistry

36V Lead-Acid & Lithium

Power

960W Max

Types

Wet, Gel, MF, EFB, AGM, Lithium

Efficiency

92% Approx.

Capacity Range

55-425Ah

Operating Temperature

-20°C to +50°C

Charging Voltage

43.2V

Charger Type

9 Step, Fully Auto., Switch-Mode

Maintenance

All Battery Sizes

IP Rating

IP66
| | | |
| --- | --- | --- |
| WHAT'S IN THE BOX |  PRODUCT SIZE | |
| GX3626 Smart Industrial Charger | Dimensions (LxWxH) | 12 x 8.5 x 3.9 Inches |
| AC Cable Plug Type B & DC Cable W/ HD Eyelets | Weight (lbs.) | 13.2 |
| User Guide and Information Guide & Warranty | | |
3 Year Manufacturer Limited Warranty.